Beskrivelse
Stir up the pond!
The term «thunder boat» instantly brings to mind the vivid image of a hydroplane streaking across the water at incredible speeds and the Mini Thunder brings that image to life. It's ready for action right out of the box, and so easy to operate that even a beginner can enjoy the excitement of thunder boat racing. At just over seventeen inches stem to stern, the Mini Thunder doesn't need a large body of water to deliver thrilling performance!
Now with Tactic 2.4GHz control!
Length: 17.5 in (444 mm)
Beam: 8 in (203 mm)
Weight w/Battery: 18.4 oz (522 g)
Requires: 4 «AA» alkaline batteries
Features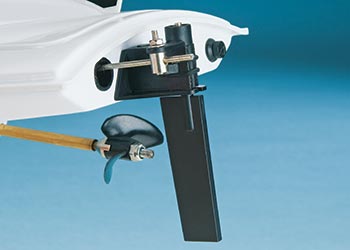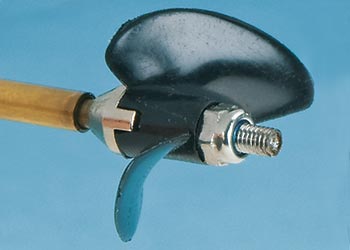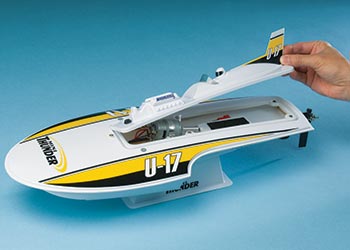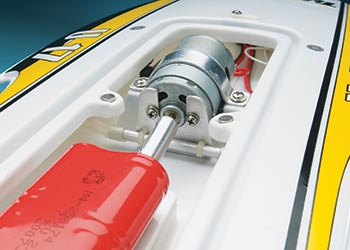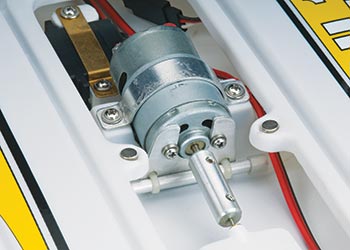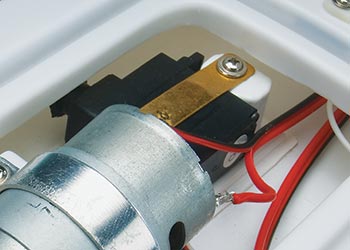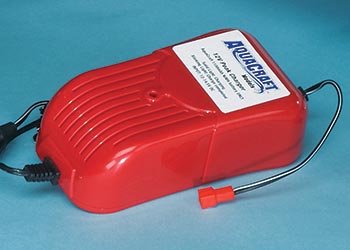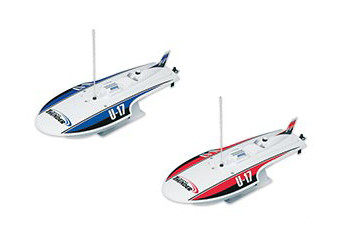 TTX300 3-Channel 2.4GHz Radio
Lightweight and comfortable, the TTX300 offers easy operation and some nice extras. Its third channel can be programmed to control any auxiliary function, including the operation of scale accessories. The combination receiver/ESC is waterproof and automatically creates an unbreakable transmitter/receiver link whenever you power up. Endpoint adjustments on the steering and throttle channels let you control how much each servo is allowed to move—a feature that protects gear trains and offers new drivers more control over the throttle. Variable rate steering helps, too, by allowing drivers the chance to fine-tune response to their skill or preference. Other features include: trims, an internal antenna and fast, easy push-button linking.

The Mini Thunder includes:
Finished and assembled ABS hull w/realistic cockpit detail & mini wedge rudders
Factory-installed power system including:

Powerful 380-size water-cooled motor
Waterproof Rx/ESC with automatic linking
Micro Wire drive system

Tactic TTX300 3-channel 2.4GHz SLT radio and mini steering servo
6-cell, 1100mAh NiMH battery with standard plug
12V DC charger
30 mm FRP prop
Display/Workstand